Hostels are the best option if you are travelling alone, if you want to make some friends along the road or just to save some money. These are the reasons why I love hostels and shared rooms: it just feels good to meet some people in the evening and share your experiences, the places you visited during the day and so on. It is a cultural exchange: usually, you will find yourself sharing your room with someone from another country or continent!
So, you have finally decided to give a shot to hostels: how to choose the good one for you? As for hotels, we have hostels of different categories. Some hostels nowadays offer all the comfort that you can find in a standard hotel and even more. That's the reason why prices usually range from 15 € to 45 € per night (of course depending on the city as well!). Very basic hostels will just provide you with a mattress and a shared bath-room with 20 people. More expensive hostels will offer you more privacy (a 4-people shared room for instance).
So, I will try to list all the factors that can make a difference between a hostel and another in my opinion. I usually check them all out through reviews before picking my hostel.
Cleanness
That comes first of course. It goes without saying that in a cheap hostel for 10$/night you should not expect a top-class cleanness. On the contrary, you should get ready to check your bed for bugs and don't be too fussy when getting into the shower. So, I do suggest to spend a few Euros more per night and be more confident about cleanness.
Power sockets
I think when you get back to your room at night and you need to charge your phone, you will want a power socket just by your bed at your fingertips. It is not always like this. Cheap hostels don't provide a power socket close to each bed. In this case, you have to look for one in the middle of the room, or maybe in the lobby (and wait until your phone is fully charged…).
So, do make sure that your bed is provided with a power socket!
Reading light
It is not as important as the power socket, but it is a comfort I always look for. A reading light by your bed is really helpful if you want to read a book at night while your room-mates are sleeping. Nowadays most hostels provide one for every bed, but you shouldn't give it for granted. Always check this out.
Locker
Being in a shared room, you will definitely need a private locker to store your most valuable things. Usually every hostel guarantees one for each bed, but make sure of it.
At any rate, don't forget to bring a padlock with you, otherwise your locker will be useless! In fact, hostels don't provide you with a padlock as well to secure your locker.
Bed linen and towels
Not all hostels provide bed linen and towels (the latter in particular). You should definitely make sure to understand if they are included or not, otherwise you will have to bring your own sleeping bag and some bath-towels.
Number of people per room
That's what usually makes the biggest difference to define the price for your bed. There are so many options from very large shared rooms with up to 30 people to more private ones for just four guests. Half-a-way solutions are designed for 6, 8, 10 people and so on. That really depends on your personality and how much you are keen to share your room with many people.
En-suite bath-room
That's another X factor! Usually in cheap hostels you have to walk out of your room to access the bath-room, which can be shared with other rooms (sometimes there is just one bath-room per floor).
High-level hostels usually have en-suite bath-room, in particular in rooms designed for a few people (look back at the previous point). I must admit that this is something I always try to include. Pay attention that sometimes in a en-suite room you may find a basin inside the room itself and just the toilet and the shower separate. Therefore, sometimes you could find the basin between two bulk beds, which may be some sort of annoyance. Browse the room pictures on the hostel website, on Hostelworld, on Booking… to get an idea.
Wi-Fi
Having a good working Wi-Fi connection is definitely a plus for a hostel. While nowadays almost every hostel offers Wi-Fi in the common areas for free, things may change about what you get in your room. It might be you have complimentary Wi-Fi as well, but with a very poor connection; or, instead, you might have to buy it. So, I recommend to make sure before booking what is the hostel policy about this.
Activities
Some hostels have a dedicated desk where you can directly book day-trips, buy tickets for shows… Of course it is something you can live without, but it might be interesting if the hostel itself organizes some activities, like a hike, a city walk-tour, a yoga class… These are occasions to mingle with other back-packers and make new friends.
Meals
If you choose to stay in a hostel, one reason might be you are on a budget. That means that being able to prepare your own food can be an important point.
In fact, you can find hostels with a fully equipped kitchen, where you are provided with everything you may need (pans, cutlery…); other hostels offer a complimentary breakfast; others don't have a kitchen and don't get you a breakfast either. So, you should not underestimate this aspect, as going out each day for every meal may turn out to be very expensive at the end of your holiday.
Conclusions
In conclusion, what I suggest before booking your hostel is to have a look at its reviews on websites like Trip Advisor, Hostelworld, Booking, so that you can have a general idea. If you find hundreds of people who share good reviews about a hostel, you should be quite confident about it. At the same time, give the right weight to bad reviews: if there is only one guy complaining about cleanness over one thousand reviews, maybe he has been too critical… In the end, relax, take it easy, book and start thinking about your trip!
Did you like this article? Did it help you? Leave a comment below and follow me on social networks!
If you need to book your accomodation, you can book your hostel with Hostelworld (this is an affiliate link: I will earn a small commission, if you book through this link, without any additional cost for you).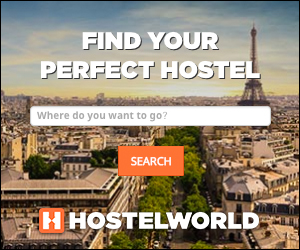 Come scegliere l'ostello giusto per te!
Andare in ostello è la soluzione migliore se viaggi da solo, se vuoi farti nuovi amici amici durante il tuo viaggio e per risparmiare un po' di soldi. Questi sono motivi per cui mi piacciono gli ostelli e le camere condivise: è bello incontrare qualcuno la sera con cui condividere le proprie esperienze, i luoghi visitati durante la giornata e così via. Si tratta di una sorta di scambio culturale: di solito, infati, ci si ritrova a condividere la camera con persone provenienti da altri Paesi o addirittura continenti!
Così, alla fine, hai deciso anche tu di provare a stare in ostello: come scegliere quello giusto per te? Come accade per gli hotels, esistono ostelli di varie categorie. Oggi ormai molti ostelli offrono tutti i comfort che è possibile trovare in un hotel standard o addirittura di più. Questo è il motivo per cui esistono ostelli di diverse fasce di prezzo, dai 15 € ai 45 € per notte (of course dipende anche dalla città in questione!). Un ostello di base si limiterà a fornirti un letto e un materasso in una camerata di 20 persone con una bagno condiviso. Ostelli più costosi offrono più privacy (camere condivise per 4 persone ad esempio).
In questo articolo proverò a elencare tutti i fattori che possono fare la differenza fra un ostello e un altro. Di solito cerco di verificarli tutti attraverso recensioni prima di effettuare la mia scelta.
Pulizia
Questa viene naturalmente al primo posto. Non c'è bisogno di dire che in un ostello da 10 € a notte non ci si può aspettare la massima pulizia. Al contrario, preparati a controllare che sul tuo letto non ci siano scarafaggi e a non essere troppo schizzignoso quando entri nella doccia. Di conseguenza, suggerisco di spendere qualche Euro in più a notte e essere più tranquilli in merito alla pulizia.
Prese elettriche
Penso che quando la notte rientri in camera e devi ricaricare il telefono, tu voglia una presa elettrica accanto al tuo letto a portata di mano. Non è sempre così. Gli ostelli economici non forniscono una presa elettrica accanto a ogni letto. In questo caso, dovrai cercarne una da qualche parte in camera o addirittura nella lobby (e a quel punto attendere fino a che il telefono non si è caricato del tutto…).
Quindi, assicurati sempre che ogni letto sia provvisto di almeno una presa elettrica!
Luce da lettura
Non è importante tanto quanto quanto la presa elettrica, ma è un comfort che ricerco sempre. Una luce da lettura accanto al tuo letto è davvero molto utile se ad esempio vuoi leggere un libro di notte, mentre i tuoi compagni di stanza stanno dormendo. Oggi molti ostelli ne prevedono una per ogni letto, ma non si può dare per scontato. Verificalo sempre!
Armadietto
Essendo in una camera condivisa, non potrai fare a meno di un armadietto privato per custodire i tuoi oggetti di valore… Di solito ogni ostello ne fornisce uno per letto, ma assicuratelo!
Ad ogni modo, non dimenticare di portare un lucchetto con te, altrimenti il tuo armadietto sarà del tutto inutile! Gli ostelli, infatti, non forniscono il lucchetto per chiudere l'armadietto.
Lenzuola e asciugamani
Non tutti gli ostelli forniscono lenzuola e asciugamani (questi ultimi in particolare). Cerca di capire in modo sicuro prima di prenotare se sono inclusi o meno, altrimenti sarai costretto a doverti portare un sacco a pelo e alcuni asciugamani.
Numero di persone per stanza
Questo è sicuramente il fattore che fa la differenza per stabilire il prezzo del letto. Ci sno moltissime opzioni diverse, da camerate enormi fino anche a 30 persone a camere molto più intime con solamente quattro ospiti. Ci sono poi soluzioni intermedie con camere per 6, 8, 10 persone e così via. Questo dipende molto anche dalla tua personalità e da quanto sei disposto a condividere la camera con molte persone.
Bagno in camera
Ecco un altro fattore chiave! Normalmente in ostelli economici dovrai uscire fuori della tua camera per andare in bagno, che può essere condiviso con altre stanze (di solito, ce n'è uno per piano). Gli ostelli di alto livello hanno di solito il bagno in camera, in particolare nelle camere per poche persone. Ammetto che questa è una caratteristica che cerco sempre di includere. Attenzione che a volte nelle camere con bagno è possibile trovare il lavandino all'interno della stessa camera e solo la toilette e la doccia separate. Di conseguenza, a volte si può trovare un lavandino in mezzo a due letti a castello, il che può essere un po' scomodo. Osserva le foto della camera sul sito dell'ostello, su Hostelworld o su Booking per farti un'idea.
Wi-Fi
Avere una buona connessione Wi-Fi funzionante è sicuramente un punto a favore per un ostello. Mentre oggigiorno quasi ogni ostello offre la connessione Wi-Fi gratuita nelle aree comuni, le cose possono cambiare in merito alla connessione disponibile in camera. Può essere che tu abbia una connessione gratuita anche in camera, ma con un una qualità molto scarsa; oppure, potrebbe essere disponibile a pagamento. Quindi, mi raccomando di assicurarti di quale sia la politica dell'ostello in tale senso prima di prenotare.
Attività
Alcuni ostelli hanno un banco dedicato per la prenotazione di escursioni in giornata, biglietti per spettacoli… Naturalmente è qualcosa di cui si può fare a meno, ma può essere interessante se lo stesso ostello organizza attività come trekking, camminate a piedi in città, lezioni di yoga… Sono occasioni in cui è possibile conoscere altri back-packers e farsi nuovi amici.
Pasti
Se scegli di stare in ostello, un motivo è che il tuo budget magari non è troppo alto. Ciò significa che avere la possibilità di prepararsi i pasti all'interno dell'ostello è un fattore importante.
Infatti, potrai trovare ostelli con cucine completamente equipaggiate, con tutto ciò di cui tu possa aver bisogno (pentole, posate…); altri ostelli possono offrire una colazione gratuita; altri non hanno nè la cucina, nè offrono la colazione. Di conseguenza, anche questo non è un aspetto da sottovalutare, in quanto dovere andare sempre fuori per i pasti può risultare una spesa importante alla fine del viaggio.
Conclusioni
In conclusione, cosa suggerisco di fare prima di prenotare il tuo ostello è leggere attentamente le recensioni su siti come Trip Advisor, Hostelworld e Booking, così da farsi una idea generale. Se trovi centinaia di persone che condividono buone recensioni su un ostello, puoi andare piuttosto sul sicuro a riguardo. Allo stesso tempo, dai il giusto alle cattive recensioni: se un solo tizio si lamenta su mille recensioni, forse è solo lui che è stato troppo critico… Alla fine, rilassati, prenota e inizia a pensare al tuo prossimo viaggio!
Ti è piaciuto questo articolo? Lascia un commento e seguimi sui social networks!
Se hai bisogno di prenotare il tuo alloggio, puoi prenotare attraverso Hostelworld (questo è un affiliate link: guadagnerò una piccola commissione se prenoterai attraverso questo link senza alcun costo aggiuntivo per te).